Get
CCPA compliant
without breaking your stride
The California Consumer Protection Act (CCPA) gives Californian residents more authority over how their personal data is used and sold.
Centralized risk visibility
Continuous compliance monitoring
Proactive alerting
Over 1 Million compliance
checks evaluated every month
Join the global market by competing in one of the world's top economies.
Impanix makes it easy for you to comply with CCPA so that you can do business without worry in California. Automatically collect evidence to document the actions taken to protect consumer data. By complying with CCPA early, you're building data privacy practices that can be rolled forward as data privacy regulations expand to other geographies.
Get CCPA guidance delivered right to your inbox.
The Impanix platform is the perfect tool for CCPA compliance. With its step-by-step guidance and policy builder, you can create controls that fit your company's needs while meeting all the requirements of CCPA. And if you have any questions, Impanix provides ongoing access to a network of in-house experts.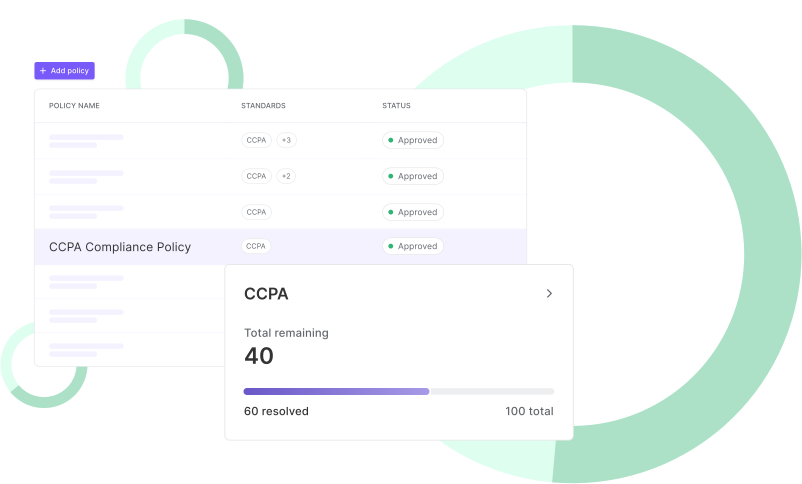 One-on-one implementation management with compliance experts.
Baked-in MDM for entity health checks ensures that your data is accurate and up-to-date.
A compliance and audit dashboard that consolidates all your data in one place.
System description and policy templates that you can use immediately.
SOC2-compliant security training modules integrated into the platform.
Improve ratings by using our secure, efficient workflow management system.
Make sure you are CCPA compliant every day of the year.
Don't stop at point-in-time checks and remain compliant year-round with Impanix's continuous security monitoring. Impanix constantly monitors for failing tests and non-compliant employees so you're always in the loop.

Don't just get compliant. Stay CCPA compliant with Impanix Contact sales
Use Impanix to centralize security compliance management – so nothing
gets in the way of your moving up and winning big.