Get
GDPR compliant
without breaking your stride
The General Data Protection Regulation (GDPR) is a set of regulations that protect the personal data and privacy of individuals in the European Union (EU) and United Kingdom (UK).
Centralized risk visibility
Continuous compliance monitoring
Proactive alerting
Over 1 Million compliance
checks evaluated every month
Save time and reduce costs
Impanix helps your team speed through GDPR compliance, saving time and money that would be spent on research or legal consultants. By automating the collection of evidence needed for compliance, Impanix makes it easy to follow GDPR guidelines without racking up costly implementation fees.
GDPR drives bottom line results
With Impanix, your team can turn their attention towards growth rather than regulation. Impanix has a set of GDPR controls that went through both internal and external expert reviews before being updated to match new GDPR regulations.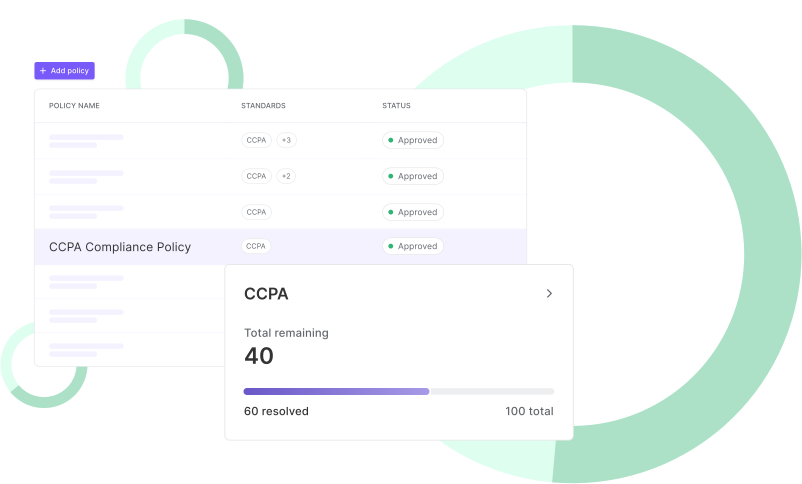 One-on-one implementation management with compliance experts.
Baked-in MDM for entity health checks ensures that your data is accurate and up-to-date.
A compliance and audit dashboard that consolidates all your data in one place.
System description and policy templates that you can use immediately.
SOC2-compliant security training modules integrated into the platform.
Improve ratings by using our secure, efficient workflow management system.
Scale securely by being GDPR compliant
Automate the process of gathering GDPR-related information and keep it all in one place so you don't have to rely on manual spreadsheets. Impanix can also help you run security training, grant and revoke access to resources, set up Slack notifications, and more.

Don't just get compliant. Stay GDPR compliant with Impanix Contact sales
Use Impanix to centralize security compliance management – so nothing
gets in the way of your moving up and winning big.