Get
HIPAA compliant
without breaking your stride
By following HIPAA compliance, companies can be sure that their practices for handling sensitive health data are secure.
Centralized risk visibility
Continuous compliance monitoring
Proactive alerting
Over 1 Million compliance
checks evaluated every month
HIPAA compliance demystified
If you're a tech company, you know that complying with HIPAA regulations can be tough. But with Impanix, it's easy. We integrate with the most commonly used business tools to help you understand your company's requirements and exactly what needs to be done to meet them.
Avoid steep fines for non-compliance with HIPAA
Health information is some of the most sensitive user data stored in electronic systems. If this data isn't protected properly, it could lead to steep fines and a loss of trust from users. With Impanix, you get the technical and personal guidance needed to mitigate financial and reputational risks of HIPAA violations.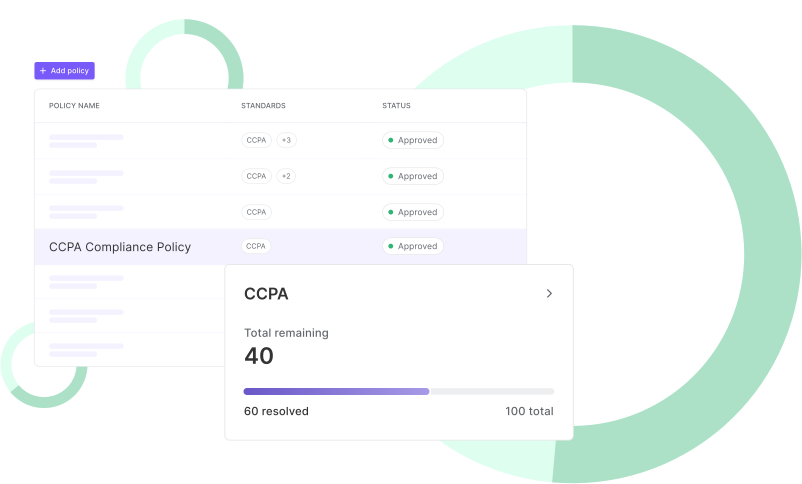 One-on-one implementation management with compliance experts.
Baked-in MDM for entity health checks ensures that your data is accurate and up-to-date.
A compliance and audit dashboard that consolidates all your data in one place.
System description and policy templates that you can use immediately.
SOC2-compliant security training modules integrated into the platform.
Improve ratings by using our secure, efficient workflow management system.
With Impanix, you can streamline everything related to HIPAA compliance into a single source. Automate evidence gathering and rid yourself of instant security reports with manual spreadsheets. Train your team in HIPAA security procedures, grant and revoke resource access as needed, and set up Slack notifications to keep everyone updated on vital security changes.

Don't just get compliant. Stay HIPAA compliant with Impanix Contact sales
Use Impanix to centralize security compliance management – so nothing
gets in the way of your moving up and winning big.