Get
PCI DSS compliant
without breaking your stride
The Payment Card Industry Data Security Standard (PCI DSS) is a worldwide standard that applies to any business involving credit card information, including but not limited to: accepting payments, processing data, storing records, or transmitting customer info.
Centralized risk visibility
Continuous compliance monitoring
Proactive alerting
Over 1 Million compliance
checks evaluated every month
PCI compliance simplified
Impanix oversees, understands, and helps companies comply with the PCI DSS. Determine which Self-Assessment Questionnaire (SAQ) is right for your business, or if your company should complete a Report on Compliance (ROC). Then connect your business tools to Impanix and get started on action items to prove payment card data security.
Save time and reduce costs
Ensure your company is PCI compliant and reduce expenses by turning to Impanix instead of external consultants. You can automate the collection of evidence needed to prove PCI compliance and reduce assessment costs significantly by partnering with a Qualified Security Assessor (QSAs) who is trained by Impanix.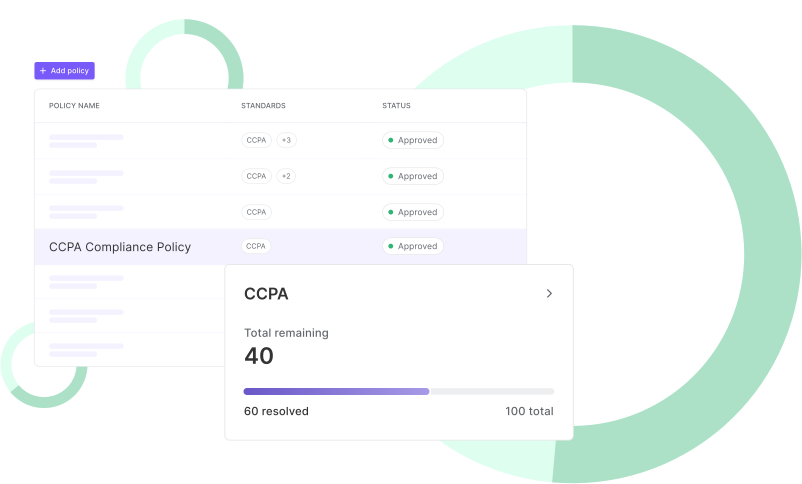 One-on-one implementation management with compliance experts.
Baked-in MDM for entity health checks ensures that your data is accurate and up-to-date.
A compliance and audit dashboard that consolidates all your data in one place.
System description and policy templates that you can use immediately.
SOC2-compliant security training modules integrated into the platform.
Improve ratings by using our secure, efficient workflow management system.
Continuous security for PCI
Impanix reduces the burden of completing your SAQ or ROC with continuous security monitoring, so you can meet the new requirements of PCI DSS 4.0 by moving your organization from a point-in-time to a business-as-usual security and compliance model.

Don't just get compliant. Stay PCI DSS compliant with Impanix Contact sales
Use Impanix to centralize security compliance management – so nothing
gets in the way of your moving up and winning big.